Discover the barefooting alternative from Vibram Five Fingers
Like the rest of the body, to keep feet healthy, they need to be stimulated and exercised.Vibram Five Fingers is a revolution in practical, fun, funky shoe covers.
Five fingers have been designed for a wide range of sports and activities - everything from yoga to kiteboarding, from tai-chi to windsurfing, from hiking to fitness training and from trekking to running.
Five fingers footwear will enhance your performance in daily activities and sports and can also help to prevent injury.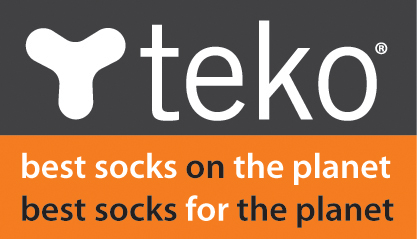 Best socks on the Planet. Best socks for the Planet
Teko is committed to producing the highest quality performance socks while minimizing environmental impact. Teko is 100% wind-powered at the office and the factory. Teko's organic merino wool comes from Argentina from a group of farms that have been raising sheep organically for decades. They are fed only organically-grown food and are not subjected to hormones, vaccinations, mulesing, or chemical drenches. Their grazing area is never sprayed with pesticides, herbicides or fertilizers. Strict water conservation methods are employed, as are protections against overgrazing.
No allergens, carcinogens, heavy metals or formaldehyde are used in their dyes.

Superfeet was born in 1977, growing out of Northwest Podiatric Laboratory in Washington State, one of the worlds leading podiatric orthotic laboratories. They set their sights on bringing quality non-prescription orthotics to skiers and they did exactly that, inventing the category of custom insoles along the way. Twenty five years and millions of pairs of feet later, Superfeet continues to pioneer non-prescription insoles for every kind of footwear, holding over 40 patents for innovative design.