NEW PRODUCT LAUNCH FROM PURE BIO!
NUZEST CLEAN LEAN PROTEIN POWDER with SPECIAL PROMOTION OFFER OF A FREE SHAKER:
NUZEST Clean Lean Protein is protein in its purest form.
Containing premium European golden pea protein, it is 100% vegetable, natural and free from gluten, dairy, soy, GMOs, lectins and xanthan gum. It is high in lean digestible protein, yet low in carbohydrates, sugar and fat.
Suitable for everybody - Paleo, Vegan, Halal, Kosher. Available in three delicious flavours and three different sizes.
As a special gift to you, we are offering a FREE SHAKER worth £5.00 with your first order of any 500g or 1kg tub of Nuzest! To take advantage of this fantastic offer, simply place your order as normal and we will despatch your free shaker along with your order!
For full details and to order, click here
NEWSFLASH! - Mastic Gum is back in stock
We are pleased to inform you that, after a lengthy period of stock issues due to failed crops, we now have MASTIC GUM back in stock. Please click
here
to order.
OTHER NEW PRODUCTS FROM PURE BIO:
1) Curcumin 500 with Bioperine
We now have Curcumin 500 with Bioperine by Pure Encapsulations in stock.
Bioperine is a black pepper extract that contains piperine, known to enhance the bioavailability of curcumin, promoting its absorption.
It also contains Curcumin 3 Complex®, a high potency turmeric extract, providing a full spectrum of curcuminoids, which has been the subject of scientific investigations at many hospitals and universities.
For full product details, please click here
We are happy to announce that we are now suppliers of STRATH liquid and tablets.
Strath Original herbal yeast is particularly suitable as a supplement to enhance the daily diet and to help the body meet the varied demands of everyday life and optimum health. Strath contains over 60 entirely natural vital substances and is suitable for people of any age.
Details of research in the use of Strath to support patients undergoing chemotherapy and radiotherapy can be found
here
For full product details, please click
here
.
PURE BIO AT THE ICAK INTERNATIONAL MEETING 2018:
We were really thrilled to be a sponsor at the recent International Meeting of the International College of Applied Kinesiology (ICAK) in Edinburgh.
It was a great opportunity to put faces to names, meet new practitioners from all over the world and have the opportunity to display our full range of stock, books and practitioner aids.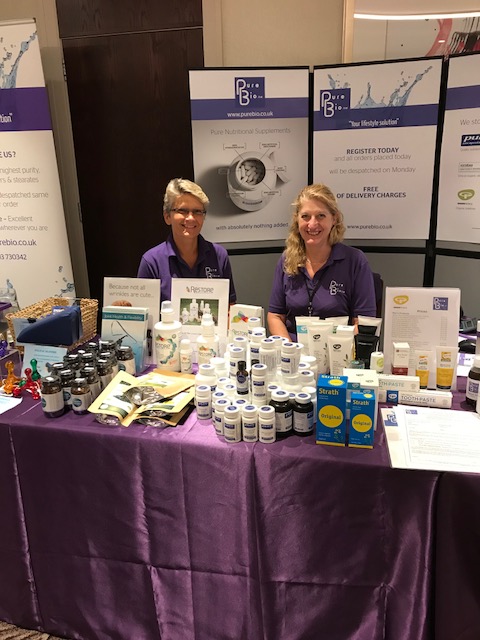 NEW! ADRENAL from PURE BIO:
We are pleased to announce the launch of our own brand ADRENAL, which is manufactured in the UK to the highest purity and quality standards, and comes in a 90 capsule pot size.

This formula combines the whole adrenal together with the adrenal cortex, sourced from New Zealand pasture-fed, pesticide and BSE-free bovine herds. The cattle are reared without the use of hormones or routine antibiotics.
Pure Bio Adrenal contains no artificial additives, sugar or salt. It is free of dairy, yeast, corn and soy.
For full details please click
here
WHAT OUR CUSTOMERS SAY ABOUT PURE BIO:
"I just wanted to contact you to say thank you so much for your fantastic customer service. It's so refreshing to hear a friendly and polite voice on the phone and nothing is ever too much hassle! The delivery is efficient and staff really helpful. In these days where everything is so fast and furious and technology based, often customer service is forgotten. So I just wanted to say thank you for what you do so well! Keep doing what you are doing!" LY
We are always grateful to hear from our customers about our products and services, as we are constantly striving to optimise your experience with us!
If you would like to leave feedback, please click here
---
GIFT VOUCHERS AVAILABLE FROM PURE BIO:
Did you know that we sell Gift Vouchers, which can be used against the purchase of any of our products, from supplements to soap to socks?!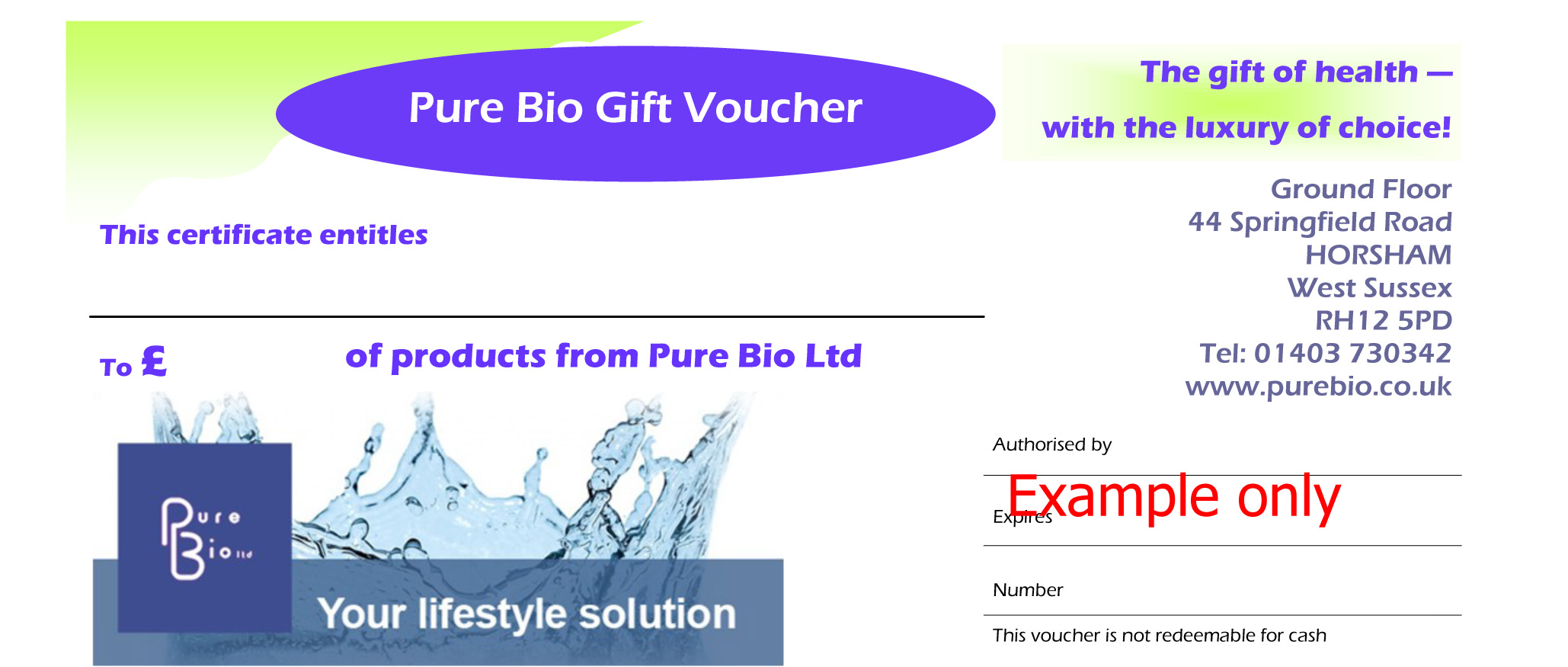 The vouchers can be purchased in denominations of £5, £10 and £20.
Why not give the gift of health, with the luxury of choice! Click here for full details.
---
LOOKING FOR A PURE ENCAPSULATIONS OR VIRIDIAN PRODUCT THAT YOU CAN'T FIND ON OUR WEBSITE?
Whilst we do not stock the full range of products from Pure Encapsulations and Viridian, we are happy to order in non-stock items for our customers. For Pure Encapsulations products please bear in mind that we are restricted by EU legislation as to which products can be imported.
But if you can't find what you're looking for - please call or email us and we will be happy to help!
_______________________________________________________

We are authorised stockists of VIRIDIAN - a leading brand of ethical supplements. The full range of products can now be purchased online at any time, as well as being available in our shop during normal business hours.
Click here to browse the range!
(please note that if you do not find the particular product you are looking for, we can obtain it for you - simply call us on 01403 730342)
---
Discontinued Products
The following products are now out of stock and will no longer be available to purchase from Pure Bio: