HALF PRICE WARRIOR BLEND OFFER!
We currently have a half price offer on Warrior Blend Protein Powder (Berry flavour) - just £22.97 for 1kg! (exp 06/09)
To take advantage of this fantastic offer, click here
NEWSFLASH! - Mastic Gum is back in stock
We are pleased to inform you that, after a lengthy period of stock issues due to failed crops, we now have MASTIC GUM back in stock. Please click
here
to order.
NEW PRODUCT LAUNCH! STRATH from PURE BIO:
We are happy to announce that we are now suppliers of STRATH liquid and tablets.
Strath Original herbal yeast is particularly suitable as a supplement to enhance the daily diet and to help the body meet the varied demands of everyday life and optimum health. Strath contains over 60 entirely natural vital substances and is suitable for people of any age.
Details of research in the use of Strath to support patients undergoing chemotherapy and radiotherapy can be found
here
For full product details, please click
here
.
PURE BIO AT THE ICAK INTERNATIONAL MEETING 2018:
We were really thrilled to be a sponsor at the recent International Meeting of the International College of Applied Kinesiology (ICAK) in Edinburgh.
It was a great opportunity to put faces to names, meet new practitioners from all over the world and have the opportunity to display our full range of stock, books and practitioner aids.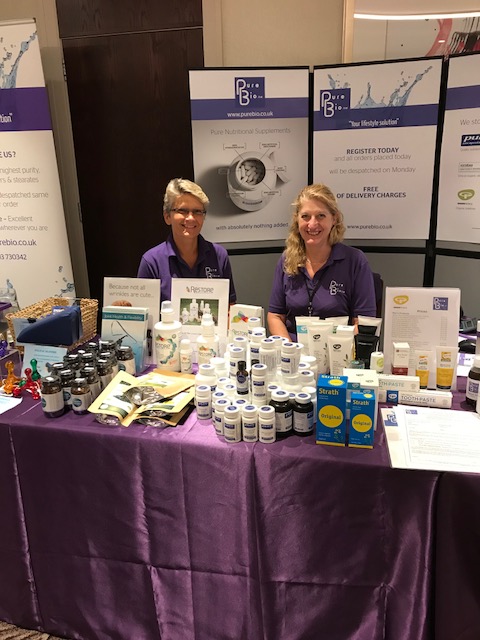 NEW! ADRENAL from PURE BIO:
We are pleased to announce the launch of our own brand ADRENAL, which is manufactured in the UK to the highest purity and quality standards, and comes in a 90 capsule pot size.

This formula combines the whole adrenal together with the adrenal cortex, sourced from New Zealand pasture-fed, pesticide and BSE-free bovine herds. The cattle are reared without the use of hormones or routine antibiotics.
Pure Bio Adrenal contains no artificial additives, sugar or salt. It is free of dairy, yeast, corn and soy.
For full details please click
here
WHAT OUR CUSTOMERS SAY ABOUT PURE BIO:
"I just wanted to contact you to say thank you so much for your fantastic customer service. It's so refreshing to hear a friendly and polite voice on the phone and nothing is ever too much hassle! The delivery is efficient and staff really helpful. In these days where everything is so fast and furious and technology based, often customer service is forgotten. So I just wanted to say thank you for what you do so well! Keep doing what you are doing!" LY
We are always grateful to hear from our customers about our products and services, as we are constantly striving to optimise your experience with us!
If you would like to leave feedback, please click here
GOOD NEWS FOR 2018! - OUR POSTAGE COSTS HAVE REDUCED
We are pleased to announce that we have been able to secure better UK postage rates with Royal Mail for 1st class mail and we are pleased to pass 100% of these savings on to you, our valued customers. So, for 2018 your postage costs will be REDUCED!
For new prices, click
here
The New Fundamentals of Applied Kinesiology - this is an EIGHT WEEKEND accredited Course of foundational material approved by the International College of Applied Kinesiology—ICAK
Commences September 2018, lecturer: Tracy S Gates, DO, DIBAK
This course is an exciting new opportunity to learn the fundamentals of Applied Kinesiology (AK). Click here for full details.
(please note that these courses are only open to practitioners with a minimum 3 year undergraduate degree in a medically oriented profession e.g. medical doctor, dentist, chiropractor, osteopath, physiotherapist etc).
MORE NEW PRODUCTS from PURE BIO FOR 2018!
O.N.E. MULTIVITAMIN
From Pure Encapsulations, a once-daily multivitamin with sustained release CoQ10
O.N.E. Multivitamin is a once-daily formula with a comprehensive profile of highly bioavailable vitamins, minerals and phytonutrients, and other factors to support optimal nutrition for both men and women.
This is a unique UK formulation of the 2nd biggest selling PE product in the US/Canada.
For full product details and pricing please click here
LIVER GI
From Pure Encapsulations, this product provides powerful support for both liver and gastrointestinal detoxification
Liver GI contains antioxidants and phytonutrients to support liver breakdown pathways, as well as assisting various detoxification processes.
It is also formulated to aid the integrity of the intestinal lining and reduce passage of toxins across the intestinal barrier.
For full product details and pricing please click here
COLLOIDAL SILVER
Our Silver is the best quality true amber colloidal silver!
It is produced using only steam distilled water and elemental silver and contains a wide range of silver particle sizes which gives it its reassuring distinctive amber colour.
Colloidal silver MUST contain silver particles. However, most colloidal silver solutions found on the market are predominantly clear (ionic) silver water, with little or no actual silver particles.
Our product contains our 14,000 ug/l True Amber Colloidal Silver that has been tested by Eurofin Laboratories & assessed by Plymouth University for nanomaterial characterisation & batch consistency.
For full product details and pricing, please click here
ADDITIONAL NEW PRODUCTS:
RESTORE
We are delighted to announce that we are now a UK supplier for this exciting new product!
Restore is a new generation, earth-derived supplement. It is not a probiotic; it is not a prebiotic - rather, it is a carbon rich, alkaline liquid, with lignite derived trace organics and essential trace amino acids, creating a biological environment for good gut bacteria to grow and flourish.
For full product details and pricing, please click HERE
ORGANIC INULIN
We are pleased to advise that we are now stocking Golden Greens Organic Prebiotic Inulin fibre powder. The product is gluten and lactose free, suitable for vegetarians and vegans and certified organic.
Inulin has been shown to reduce the accumulation of visceral fat as well as provide an ideal environment for the growth of beneficial intestinal flora.
For full product details and pricing, please click HERE
---
GIFT VOUCHERS AVAILABLE FROM PURE BIO:
Did you know that we sell Gift Vouchers, which can be used against the purchase of any of our products, from supplements to soap to socks?!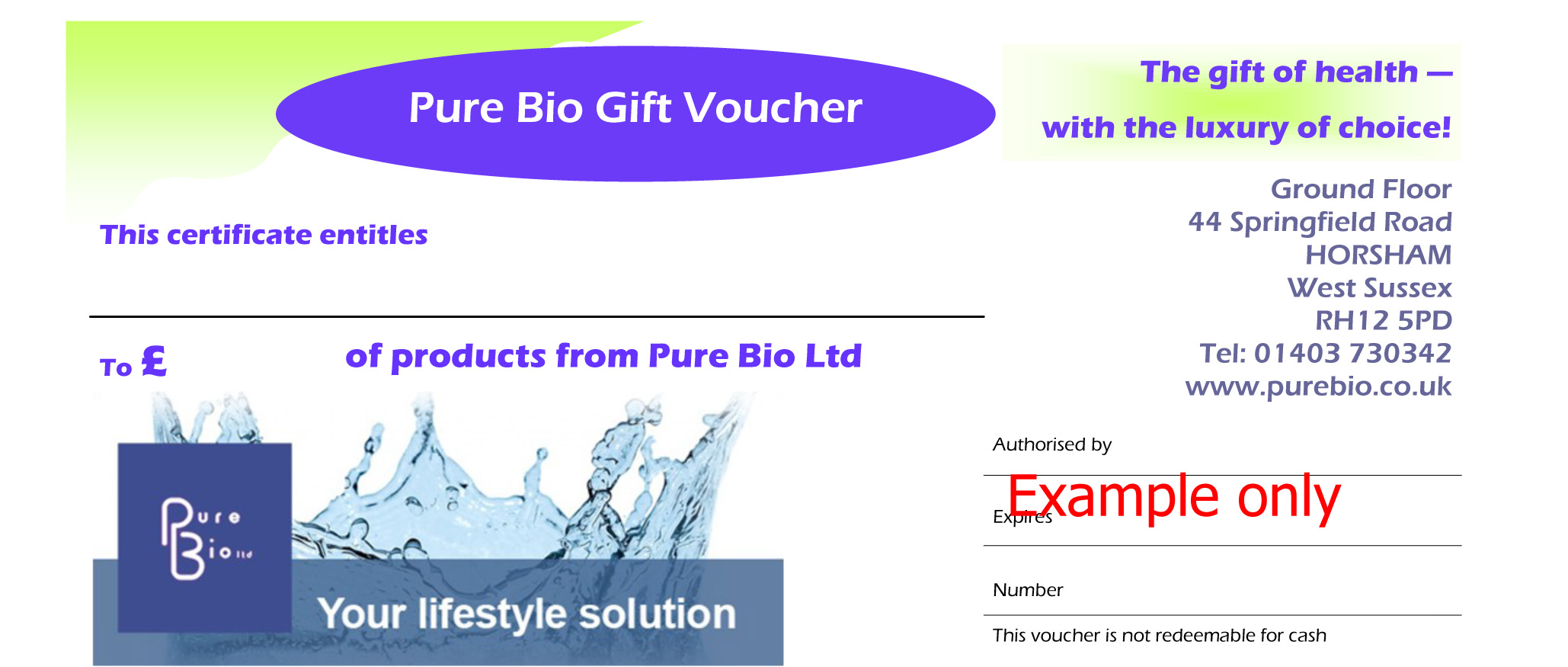 The vouchers can be purchased in denominations of £5, £10 and £20.
Why not give the gift of health, with the luxury of choice! Click here for full details.
---
LOOKING FOR A PURE ENCAPSULATIONS OR VIRIDIAN PRODUCT THAT YOU CAN'T FIND ON OUR WEBSITE?
Whilst we do not stock the full range of products from Pure Encapsulations and Viridian, we are happy to order in non-stock items for our customers. For Pure Encapsulations products please bear in mind that we are restricted by EU legislation as to which products can be imported.
But if you can't find what you're looking for - please call or email us and we will be happy to help!
_______________________________________________________

We are authorised stockists of VIRIDIAN - a leading brand of ethical supplements. The full range of products can now be purchased online at any time, as well as being available in our shop during normal business hours.
Click here to browse the range!
(please note that if you do not find the particular product you are looking for, we can obtain it for you - simply call us on 01403 730342)
---
Discontinued Products
The following products are now out of stock and will no longer be available to purchase from Pure Bio: