Seminars for 2018/19
NEW SEMINAR ANNOUNCED FROM PURE BIO FOR 2019
ADVANCES IN METABOLIC DISCOVERY AND TREATMENT PROTOCOLS
Following the success of our previous seminars, we are delighted to announce that DR JOSEPH SHAFER, DC, DIBAK, will be returning to the UK to present his latest seminar on how to use the FitOmega (Alfa Omega) range of diluted Phytotherapeutic products in your practice.
This is a very special weekend that will combine manual muscle testing and metabolic system challenges with infrared organ stimulation for diagnosis. Individual patient therapeutic protocols using the Pure Bio and FitOmega lines will be shown for optimal results.
WHEN: 6 & 7 April 2019
VENUE: Gatwick Hilton Hotel, South Terminal, Gatwick Airport
COST: £325 for the weekend
(To participate in the course, you must bring, or purchase, Alfa Omega test kits, substance challenge kits and 2 magnets, which are necessary for the practical workshops. Please see the booking form for details.
The FitOmega range of products are an incredibly powerful tool in reversing disease processes and a must-have tool for advanced thinking practitioners.
A 'not to be missed' weekend with clinical metabolic profiles never seen before!
For full details and to book click here
---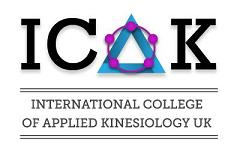 ICAK-UK presents:
The New Fundamentals of Applied Kinesiology - an EIGHT WEEKEND accredited Course of foundational material approved by the International College of Applied Kinesiology—ICAK
Commences September 2018
This course is an exciting new opportunity to learn the fundamentals of Applied Kinesiology (AK). The course focuses initially on muscle testing skills and builds on a monthly basis to look at all apsects of visceral, metabolic and stomatognathic dysfunction. The course will allow you to integrate AK easily and progressively into your existing practice.
Click here for full details
(please note that these courses are only open to practitioners with a minimum 3 year undergraduate degree in a medically oriented profession e.g. medical doctor, dentist, chiropractor, osteopath, physiotherapist etc).
---